Offers MAY 2020 in 4 stars hotel on the beach
The ideal offer to enjoy the sunny days on the PRIVATE BEACH, SWIMMING POOL and SPA
от
33,00 €
не пропустите!
From
30 Апрель 2020
связаться!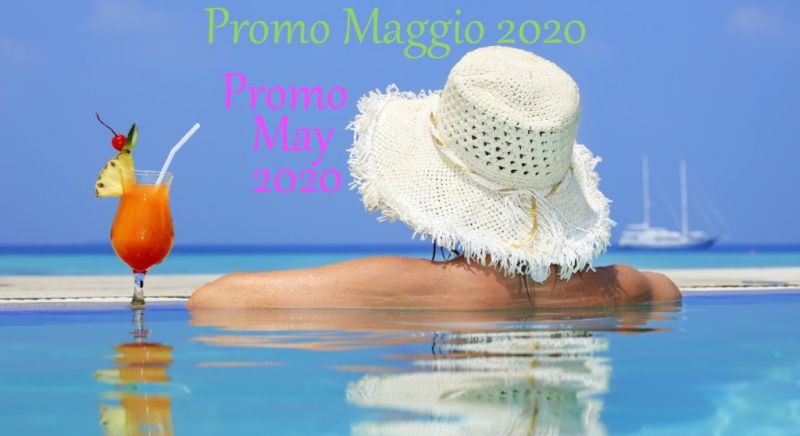 May is the quietest month of the season in Rimini and the Adriatic Coast and is therefore ideal for those seeking the tranquility of still UNCROWDED BEACHES... A first taste of summer with pleasant temperatures and the MAGNIFICENT SEA after the long and cold winter, and especially for those who love AFFORDABLE PRICES.
And also with the May-Offer who will book a stay of at least 3 nights will have the LATE CHECK-OUT OFFERED*
* late check-out service is subject to availability upon booking
Offers MAY 2020
7 night stay start

AT JUST 330,00 € per couple

instead 430,00 €
*
Price with Bed & Breakfast + Private Beach + Wellness Zone


You also can add a' la carte lunch and dine and many other services !
Children discount till 80%
* Offer for stays of at least 4 nights in a room occupied by at least 2 people.
Offers May 2020 in BEACHFRONT 4 stars hotel North of Rimini with SPA, PRIVATE BESCH and SWIMMING POOL:
Who has the opportunity to spend the holidays in May 2020 in Rimini can find in Hotel Estate a large number of advantages:
The lowest price on seasonal holidays
LCalm and absolute silence during the nights for an assured rest
The tranquility of a beach with very few tourists, but already with the bathing equipment in use
No lines at amusement parks to visit them in peace
Very little traffic in the street for quiet walks on foot or by bicycle along the Adriatic Coast
And above all, the hotel facilities are already active:
Private beach with sun loungers and umbrellas
Swimming Pool with Hot Tub, sun loungers and umbrellas
Wellness - SPA area in the hotel's panoramic roof terrace
Bicycles available to guests
Our May's Offers to the sea are designed to offer many services to meet your needs at a really fabulous price... and May is the ideal month to spend some days outdoors, you just have to choose our services according to your wishes for a carefree holiday:
Stop the cheapest fare for your holidays
Contact us directly:
There are plenty of opportunities to spend a peaceful stay in May at SEA on ADRIATIC COSTA:
A week end by the sea to visit the AMUSEMENT PARKS:
The beautiful days in May, the mild weather and the light's hours that gradually get longer are ideal for exploring the Adriatic Coast's Amusement Parks... choose the praticity of our special Bed & Breakfast formula with a rich breakfast will leave you much freedom and flexibility of movement being able to choose whether to add a daily lunch and dinner.
A stay for single parents and for FAMILY - children discounted up to 90%:
A particularly advantageous offer for the Rimini's holidays on the sea in May 2020 is dedicated to single parents & to the family who want to take advantage of the first rays of sun for a few days at sea in a safe and quiet location where their children can play freely thanks to the many services that Hotel Estate offers: our seafront 4 star hotel with PRIVATE BEACH and no road to cross to access the beach is ideal for the children's safety, the rocky barrier means that the sea is shallow and the water built up slowly to the beach games and fine sand will entertain the little ones and relax the parents who can keep an eye on their children.
Stop the cheapest fare for your holidays
Contact us directly:
A ROMANTIC WEEK-END in COUPLE with the RELAX ZONE only for you:
Imagine a hotel built on the beach with a WELLNESS - SPA AREA entirely reserved for you to relax and rejuvenate in May after a long winter... that's not a dream: Hotel Estate offers you incredible "WELLNESS STAY" offers with the hotel's wellness area entirely reserved for you so you can enjoy a relaxing massage in the Jacuzzi Hot-Tub, a warm hug in the Finnish Sauna and enjoy a regenerating herbal tea on the chaise longue, all in an environment with warm soft lights, candles, scented incense and a relaxing music... no other guests and away from prying eyes.
ACTIVE & SPORTS May Holidays by the sea:
There are so many sports activities that you can practice in May at the beach or inland of Rimini: NORDIC WALKING, TREKKING, CYCLING, MUNTAIN BIKING... and the RELAX of the cozy WELLNESS-SPA AREA is waiting for you to regenerate body and mind with FINNISH SAUNA and the HOT-TUB JACUZZI.
... and talking about sports: RIMINI WELLNESS 2020
From 28 til 31 May 2020 at Rimini Fiera (Rimini Exhibition Centre) is the largest fitness event in the world. Various and numerous events regarding the WELL-BEING and SPORTS will be staged at Rimini Exhibition Centre with lectures, essays and sports competitions in many specialties: dance, parkour, skating on ice, close combat, cycling, zumba fitness, skating on wheels, spinning and many other shows keep you entertained along with the events dedicated to the wellness of body and mind as yoga, massage, bio-gymnastics, etc ..
Discover the Rimini's and Romagna's hinterland with our EXCURTIONS:
These special offers are for those who want to spend a magnificent holiday between fun and healthy in a friendly hotel directly on the beach without giving up a bit' of culture: many TOURS in the Romagna's hinterland: caves, medieval villages, castles, villages, festivals, art exhibitions, musical, historical centers, museums... there are just some of the proposals that the Romagna's hinterland offers and we will propose a magnificent stay at Hotel Estate as well as enrich your cultural background.
Rimini WELLNESS HOLIDAY in May 2020:
Many people don't know... but Rimini in May is the ideal destination for a WELLNESS and RELAXING STAY: many pediatricians recommend a few days at SEA in May for adults and children for many reasons:
A proper sun exposure stimulates the synthesis of D-vitamin in the human body so as to fix calcium in the bones and fighting osteoporosis.
The increase of endorphins and serotonin in adults and children is favored by SUN and SEA bringing benefit mood.
Growth hormone is favored by proper exposure to sunlight, as well as the children's immune system.
The mineral salts of which the sea's air is rich help proper breathing: sodium chloride, iodine, potassium and magnesium of which the sea's air is rich are a real "natural aerosols".
Sodium, sulfur and copper present in the salt's water makes the bathroom in the Adriatic Sea really healthy.
The impure skins derive very great benefit by salt and sun, then there're optimal for children suffering from eczema or psoriasis.
Stop the cheapest fare for your holidays
Contact us directly: